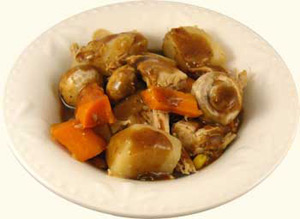 2 Tablespoons Vegetable Oil
1 Medium Onion, chopped
2 Large Cloves Garlic, minced
2 Stalks Celery, chopped
1 Whole Chicken, de-boned and cut into chunks
5 Carrots, peeled and chopped
2 Parsnips, peeled and chopped
4 Large Potatoes, peeled and chopped
1 Teaspoons Dried Thyme Leaves
3/4 Teaspoon Salt
1/2 Teaspoon Black Pepper
12 oz Guinness Stout
1/2 lb Fresh Button Mushrooms
3/4 Cup Frozen Corn
Heat oil in large skillet over medium heat until hot. Add onion, celery and garlic; cook and stir 3 minutes or until tender. Remove vegetables with slotted spoon to small bowl.
Arrange chicken in single layer in skillet. Cook over medium-high heat 5 minutes per side or until lightly browned.
Add onion, celery, garlic, carrots, parsnips, potatoes, thyme, salt and pepper to skillet. Pour stout over chicken and vegetables. Bring to a boil over high heat. Reduce heat to low. Cover and simmer 35 minutes.
Add mushrooms and corn to skillet. Cover; cook 10 minutes.
Uncover skillet; increase heat to medium. Cook 10 minutes or until sauce is slightly reduced and chicken is no longer pink in center.

Disclaimer: LittleShamrocks.com is an affiliate website that receives commissions from sales of the products listed. We have purchased and sampled many, but not all, of the products on these pages.

© Copyright LittleShamrocks.com. All Rights Reserved.