Irish Chocolate Mint Squares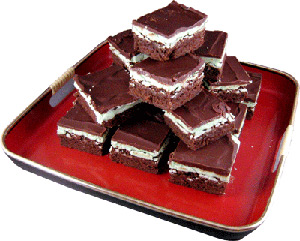 1 1/2 Cups (3 Sticks) plus 6 Tablespoons Butter or Margarine, divided
2 Cups Granulated Sugar
2 Teaspoons Vanilla
4 Eggs
1 Cup All-Purpose Flour
3/4 Cup Cocoa Powder
1/2 Teaspoon Baking Powder
2 2/3 Cups Powdered Sugar
1 Tablespoon plus 1 Teaspoon Water
1 Tablespoon Mint Extract
4 Drops Green Food Coloring
1 Cup Semi-Sweet Chocolate Chips
Preheat oven to 350F.
Grease 13 x 9 x 2 inch baking pan.
Place two sticks butter in large microwave safe bowl; cover. Microwave at HIGH two minutes or until melted. Stir in granulated sugar and vanilla. Add eggs; beat well. Add flour, cocoa and baking powder; beat until well blended. Pour batter into prepared pan. Bake 30 to 35 minutes or until wooden pick inserted in center comes out clean. Cool completely in pan on wire rack.
Prepare mint cream center by combining powdered sugar, one stick butter, water, mint extract and food coloring in large bowl. Beat until smooth. Spread evenly on brownies. Cover; refrigerate until cold.
Prepare chocolate glaze by placing remaining 6 Tablespoons butter and chocolate chips in small microwave safe bowl. Microwave at HIGH one minute or until mixture is smooth when stirred. Cool slightly; pour over chilled bars. Cover; refrigerate at least one hour before serving. Cover; refrigerate leftovers.
Yield: 24 bars

Disclaimer: LittleShamrocks.com is an affiliate website that receives commissions from sales of the products listed. We have purchased and sampled many, but not all, of the products on these pages.

© Copyright LittleShamrocks.com. All Rights Reserved.