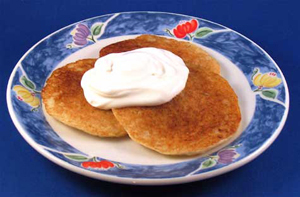 3 Cups Chopped Potatoes
1/2 Cup Chopped Onion
2 Large Eggs
2 Tablespoons Flour
1/2 Teaspoon Salt
Sour Cream
Blend potatoes, onion and eggs in a blender or food processor until finely grated. Add flour and salt until mixed well.
On a preheated and greased griddle, spread one heaping tablespoon of mixture into a 2 1/2 inch pancake each.
Grill over medium heat until top looks dry; flip and cook on the other side. Serve with butter or sour cream.

Disclaimer: LittleShamrocks.com is an affiliate website that receives commissions from sales of the products listed. We have purchased and sampled many, but not all, of the products on these pages.

© Copyright LittleShamrocks.com. All Rights Reserved.