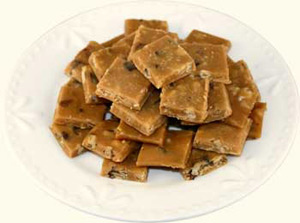 1/4 Cup White Sugar
3/4 Cup Maple Sugar
1/2 Cup Heavy Cream
1/4 Cup Brown Sugar
1/4 Cup Corn Syrup
1/8 Teaspoon Salt
1 Tablespoon Butter
1/3 Cup Whole Nut Meats (optional)
Cook the first five ingredients until a soft ball is formed when a little of the mixture is dropped into cold water (250F). Remove; add the salt, butter, and nut meats and pour into buttered pan. When cold, cut into squares.

Disclaimer: LittleShamrocks.com is an affiliate website that receives commissions from sales of the products listed. We have purchased and sampled many, but not all, of the products on these pages.

© Copyright LittleShamrocks.com. All Rights Reserved.