Maple Candied Sweet Potatoes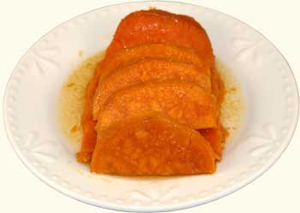 6 Medium Sweet Potatoes
1/2 Cup
Maple Syrup
1 Tablespoon Butter
1 Teaspoon Salt
1 Cup Apple Cider or Apple Juice
1/2 Cup Water
Preheat oven to 300F.
Boil potatoes in jackets until nearly done. Peel, slice and put into baking pan. Let maple syrup, butter, salt, cider and water come to a boil. Pour over potatoes and bake in a slow oven (300F) for 1 hour or until potatoes are glazed and syrup is of desired consistencey. Serves 6

Disclaimer: LittleShamrocks.com is an affiliate website that receives commissions from sales of the products listed. We have purchased and sampled many, but not all, of the products on these pages.

© Copyright LittleShamrocks.com. All Rights Reserved.