Tyna's Chunky Pea Soup with Ham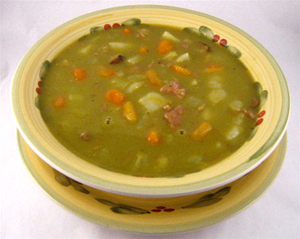 1 lb Green Split Peas
1 Meaty Ham Bone (1 1/2 lb)
1 1/2 Cups Sliced Onions
1/4 Teaspoon Dried Marjoram, crushed
1 Cup Sliced Celery
1 Cup Diced Carrots
1 Cup Diced Potatoes
Cover peas with 2 quarts cold water and simmer gently 2 minutes; remove from heat; cover and let stand 1 hour. Add ham bone, onion, 1 teaspoon salt, 1/2 teaspoon pepper and marjoram.
Bring to boil; cover, reduce heat and simmer (don't boil) for 1-1/2 hours, stirring occasionally. Remove bone; cut off meat and dice. Return meat to soup; add vegetables. Cook slowly, uncovered, 40 - 45 minutes. Serves 6 to 8.

Disclaimer: LittleShamrocks.com is an affiliate website that receives commissions from sales of the products listed. We have purchased and sampled many, but not all, of the products on these pages.

© Copyright LittleShamrocks.com. All Rights Reserved.