September 2009 Newsletter
With Tyna's new subscription to Ancestry.com, she has found loads of new genealogical information to report.
Hello from LittleShamrocks.com,
The first Monday in September is the American holiday, Labor Day, which is the three day weekend that is considered to be the unofficial end of summer. This is the time when the kids go back to school and people get together for one last cookout, one last pool party and one last hurrah. Some of the summer restaurants, beaches and businesses close for the season, with the rest holding out for the foliage season, which ends on Columbus Day weekend in October.
All of the summer vacationers button up their cottages and head back to the city, while local residents drain their swimming pools and put away their patio sets for the winter. You can see some leaves beginning to turn color, and the smell of autumn is in the air. There will be a slight lull in activity for a couple of weeks, until the foliage seekers start flooding into the area from all over the world. It is a beautiful sight.
I received a submission from Maura Foye Hall of Chicago who was planning a trip to Ireland the first week of August. Her grandfather had come from the Mohill area of County Leitrim and she asked if I could help her find the farm where he had grown up. She had visited the area about thirty years ago and couldn't remember where it was but that it was called Ned Foye's Field. After asking her a few preliminary questions about her grandfather, Edward "Ned" Foye, I finally found him on the 1901 Leitrim-Roscommon Census. Ned was abandoned by the people who had abducted his father, mother and sister, and he was brought up in a local orphanage run by the Sisters of Mercy. When he was seven years old, he was adopted by a farmer from Clooneagh. Ned lived and worked there until he was able to save enough money to emigrate to the United States, where he settled in the Chicago area. I had emailed Phil O'Brien to see if she had ever heard of 'Ned Foye's Field' and she replied that one of her patrons was interested in the story and was going to look into it. After Maura returned from her trip, I received a lovely thank you note she had sent on behalf of herself and her family. When they arrived in Mohill, they went into O'Brien's Tavern to see Phil, who was not there, but they met with Jim. He got out some maps and they figured out where the farm was located. I thanked her for the note and told her that it was my pleasure to help her. I'm fascinated with genealogy and delighted when I find something, even if it's not my family.
I have collected a lot of history about my Casey and Willett family connection. I recently joined Ancestry.com and it has been a wonderful tool. I love the "hints" they give you. They may have 5 people who could possibly be a link, so they tell you, you check them out and add them if they belong to you. Some can be eliminated right away, but I get excited whenever I get a hint.
The information I found on Michael Casey is incomplete on an 1846 list of Irish emigrants arriving in Quebec, Canada. There is a Michael Casey, wife and children listed as a party of nine people; three adult males, three adult females, two children in the age bracket 3 to 12, and one infant. Anyone over the age of twelve was considered an adult, so I wonder if our Michael Casey could have been one of the adult males in a family that emigrated together. I need more information. These were destitute emigrants being forwarded to Montreal on the steamship Lord Sydenhall. Their destination was L. Original. I tried to research that name and only came up with a former prison in a small area of Montreal, L'Origine, which may have been used as housing during the flood of Irish emigrants.
Great-great grandmother, Mary Ann Denning Casey, was an Irish famine immigrant to Canada, and I believe I found her included on a partial ship's passenger index. I have a Mary Denning, born in Ireland in 1831, died in Vermont 1870. It's the right name and the right time frame but the rest of the information is on microfilm. I found Mary Casey and four of her children on the 1870 U.S. Census for Vermont. The family appears to have been boarding at the home of Joseph Smith in Colchester. Family members listed are Mary Casey (44), her son, Michael Casey (22), her son, Patrick Casey (18), her son, Edward Casey (16), her daughter, Kate Casey (8). Anna was old enough to be employed as a servant, so it's not a surprise that she wasn't listed, but I was very surprised to see an older son, Michael. This is the last U.S. Census where Mary Ann was listed.
Last month, when I reported that my sister, Marylou, had given me information about our great grandparents, Anna Casey Willett and her husband, Edward Willett, Jr., and their children, I didn't realize that they were all living together in the same house. In the 1880 Census, it shows the head of household as Patrick J. Casey (26), his wife, Lizzie D. Casey (24), their daughter, Kate A. Casey (1), Patrick's sister, Annie Willet (23), Annie's husband, Edward Willet (26), their daughter, Clara Willet (4), their son, Charles Willet (2), their youngest son, Jesse Willet (8 mos.) and Patrick's brother, Edward Casey (24). On this census, the name is spelled W-i-l-l-e-t, with only one 'T', Anna is recorded as Annie and Jerre (Jeremiah) is mistakenly recorded as Jesse. The only family member not listed is Catherine (Kate) because she was employed as a domestic for the George Towle family in Burlington.
I found my Willett great-great grandparents listed on the 1860 Burlington, Vermont Census. They are listed as Edward Willet born in Vermont (27), his wife, Adaline Willet (24), their daughter, Adaline (10), their son, Edward (7), their son, Joseph (6), their son, Felix (3), their daughter, Louisa (2). On the 1870 census their ages are off a little but it is the same family. Edward Willet (40), his wife, Adaline Willet (38), their daughter, Louisa (13), and their daughter, Florence (1). My other sister, Andrea, told me that there were a lot of children, some of whom are not listed here, and several died very young.
The 1870 census reads, Edward Willett born in Vermont (40), his wife, Adaline Willett (38), daughter, Louisa (13), Florence (1). Their son, Edward was not listed but I found him working as a servant and boarding with the John Pair family in Fort Edward in upstate New York. This town is directly across Lake Champlain from Burlington, Vermont.
The 1880 census lists both of Edward Sr.'s parents as being born in Canada, which is the first time I've seen or heard of that information. Listed are Edward Willett (49), carriage upholsterer, wife, Adeline (44), daughter, Louisa (18), son, George (16), daughter, Amelia (14), son, Henry (13), son, Frank (10), daughter, Florence (8), daughter, Ida (6). If you have noticed, in this twenty year span, spelling of the Willett name is found different with either one "T" or two. Adaline is also spelled Adeline, the ages are not consistent, and there are five more children listed here. Just an amusing note; our grandfather, Jeremiah Willett, married a very French Canadian named Elvira Loiselle. Willett is actually an English name but she tried to make it sound French. She added an 'E' on the end and changed it from Wil' - lett to Wil - lette'. My father's brother, Joe, kept the 'E' but my father changed it back.
Edward Willett Jr.
The 1880 census was the last time that Edward Willett, Sr.'s family was listed. This was also the last time we saw Edward, Jr. listed in Vermont. Anna and their children were still living in Vermont but Edward was found living in North Jay, NY, near Plattsburgh, in upstate New York. Edward was a very accomplished artist and we were sent two of his works by his friend's family member. One was a reverse painting on glass of flowers in a vase. The other was a self portrait in charcoal, circa 1890, that was so well done it looks like a photo. My father's brother, Donald, didn't look like my father or his other brother, Joe, because he looked just like Edward, Jr.'s twin brother. Unbelievable! Edward passed away in 1927.
Last month I had learned that Terry's great aunt, Mary Kate Reynolds, had emigrated to Boston. I made an educated guess that she traveled over with grandfather Terence in 1908 but I was wrong. She emigrated in 1909, arriving in Boston on the S.S. Saxonia and Terence met her at the port.
I hope that all of you will take advantage of the beautiful foliage season coming up and please make it a safe and happy time. I will look forward to writing the next newsletter for the month of October in which I will include a couple of recipes.
Until next time ...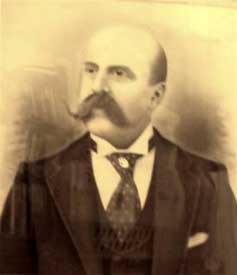 Edward Willett Jr.


Sláinte,
Tyna

Disclaimer: LittleShamrocks.com is an affiliate website that receives commissions from sales of the products listed. We have purchased and sampled many, but not all, of the products on these pages.

© Copyright LittleShamrocks.com. All Rights Reserved.