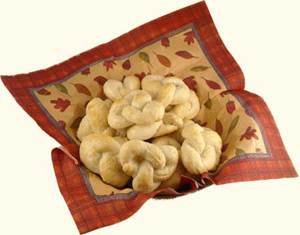 1 Prepared Dough Recipe for one loaf of white bread*
1 Egg White
2 Teaspoons Water
2 Tablespoons Coarse Salt
Preheat oven to 375F.
Lightly grease baking sheets; set aside.
Divide dough equally into 16 pieces; shape each piece into a 10-inch rope. Form each rope into interlocking ring as shown in the photo; place on prepared baking sheets. Moisten ends of rope at seams; pinch to seal.
Beat egg white and water in a small bowl until foamy. Brush onto dough shapes; sprinkle with coarse salt.
Bake about 15 minutes or until golden brown. Serve warm or at room temperature. Yield: 16
* To save time, you may also use 1 loaf of frozen white bread dough, thawed, or a package of hot roll mix.

Disclaimer: LittleShamrocks.com is an affiliate website that receives commissions from sales of the products listed. We have purchased and sampled many, but not all, of the products on these pages.

© Copyright LittleShamrocks.com. All Rights Reserved.