Chocolate Irish Cream Truffles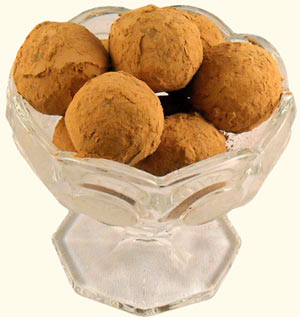 4 1 oz Squares Unsweetened Chocolate
2 1/2 Cups Confectioners Sugar
6 Tablespoons Butter, room temperature
1/4 Cup Bailey's Irish Cream
In a heavy 2-quart saucepan over low heat, heat 4 squares of unsweetened chocolate, stirring frequently, until melted; cool slightly. Stir in confectioners sugar, butter and 1/4 cup Irish Cream until mixture is smooth and blended. (Mixture will be thick so you may have to finish mixing it with an electric mixer).
Roll truffle mixture into 1-inch balls. Refrigerate for 30 minutes until they set. Roll each truffle in powdered cocoa. Yield: About 20 truffles

Disclaimer: LittleShamrocks.com is an affiliate website that receives commissions from sales of the products listed. We have purchased and sampled many, but not all, of the products on these pages.

© Copyright LittleShamrocks.com. All Rights Reserved.