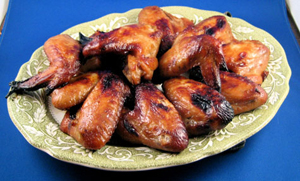 2 lbs Fresh Whole Chicken Wings
Teriyaki Marinade
1/2 Cup Vegetable, Corn or Canola Oil
1/2 Cup Soy Sauce
1/2 Cup Sherry Wine
3 Teaspoons Minced Garlic
1 Tablespoon Ground Ginger
1/2 Cup Orange Juice
3/4 Cup Honey
Use the whole wing or cut chicken wings at the joints, discarding the tips. Place in a glass baking dish, cover and marinate overnight in the refrigerator, turning once.
Remove from marinade and broil or grill for 10 to 15 minutes on each side, turning once. Arrange on a platter and serve as an appetizer. Discard remaining marinade. This marinade is also delicious with beef or pork.

Disclaimer: LittleShamrocks.com is an affiliate website that receives commissions from sales of the products listed. We have purchased and sampled many, but not all, of the products on these pages.

© Copyright LittleShamrocks.com. All Rights Reserved.