Molded Candy For Halloween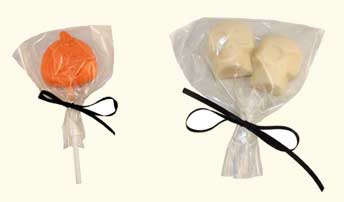 1 lb Chocolate or Candy Confectionery Coating
Candy Mold
Lollipop Sticks
Melt chocolate in double boiler over medium heat until melted and smooth. With a small ladle, fill each mold, but do not overfill. Tap mold on the counter to remove air bubbles. If making lollipops, place stick in the slot and turn to coat the stick.
Place in the freezer on a flat surface to set for about 20 to 30 minutes. When set, the candy will pop out of the mold. Set aside and let come to room temperature. Wrap in cellophane and tie with a ribbon.

Disclaimer: LittleShamrocks.com is an affiliate website that receives commissions from sales of the products listed. We have purchased and sampled many, but not all, of the products on these pages.

© Copyright LittleShamrocks.com. All Rights Reserved.