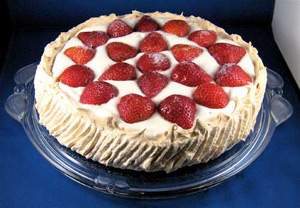 3 Large Egg Whites
1/4 Teaspoon Cream of Tartar
1/4 Teaspoon Salt
3/4 Cup Sugar
1 1/2 Cups Heavy Cream
3/4 Teaspoon Vanilla Extract
Kiwifruit or any kind of sliced fresh fruit or berries
Preheat oven to 275F.
Line cookie sheet with foil. Using a 9 inch round plate or cake pan as guide, with toothpick, outline a circle on foil on cookie sheet. In small bowl, with mixer at high speed, beat egg whites, cream of tartar and salt until soft peaks form. Beating at high speed, gradually sprinkle in sugar, 2 tablespoons at a time, beating well after each addition until sugar is completely dissolved and whites stand in stiff, glossy peaks.
Inside circle on cookie sheet, spoon meringue mixture, shaping meringue into a "nest" about 1 1/2 inches high around the edge. Bake 1 1/4 hours or until meringue is lightly browned and crisp. Cool meringue on cookie sheet on wire rack for 10 minutes. With metal spatula, carefully loosen and remove meringue from foil to wire rack to cool completely. When meringue is cool, place on serving plate and store in a cool dry place.
In small bowl, with mixer at medium speed, beat heavy cream and vanilla extract until stiff peaks form. Fill meringue with cream and top with fruit just before serving. Do not store the meringue in the refrigerator, as it will absorb moisture and become soft. You may also use this recipe to make 6 individual Pavlovas.

Disclaimer: LittleShamrocks.com is an affiliate website that receives commissions from sales of the products listed. We have purchased and sampled many, but not all, of the products on these pages.

© Copyright LittleShamrocks.com. All Rights Reserved.