Apple & Blackberry Cake with Irish Whiskey Custard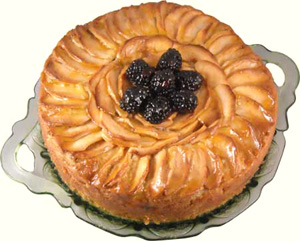 1 Cup (2 Sticks) Butter
1 Cup Sugar
4 Eggs
3 Cups Self-Rising Flour
2 Cooking Apples, peeled, cored, and diced
1/2 Cup Blackberries
4 Dessert Apples, peeled, cored, and sliced
3 Tablespoons Apricot Jam, for glaze
Whiskey Custard:
1 1/4 Cups Milk
11/4 Cups Cream
4 Egg Yolks
1/2 Cup Sugar
1/4 Cup Irish Whiskey
Preheat oven to 350F.
Grease a 9-inch springform pan and line with waxed paper.
Cream butter and sugar together until light and fluffy. Beat in eggs, one at a time, then sift in the flour. Stir in the diced apples and blackberries, setting aside a few blackberries for garnish. Pour in the batter (batter will be thick) and spread evenly in the pan. Arrange the apple slices around the top of the batter. Bake until lightly browned, or a skewer inserted into the center comes out clean, 45 to 50 minutes. Cool in the pan. Loosen around the edges of the cake; turn over and remove pan bottom and wax paper. Place cake top side up onto a serving plate. In a small saucepan over low heat, melt the jam and brush over the top of the cake.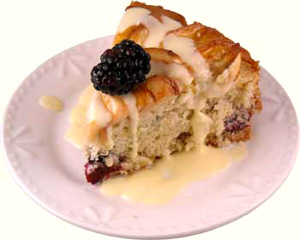 In a medium saucepan, bring the milk and cream to a boil over medium heat, then turn off the heat. In a medium bowl, whisk together the egg yolks and sugar until pale and fluffy. Slowly pour the milk and cream mixture into the egg mixture, whisking continuously. Return to saucepan over low heat and cook until custard is thick enough to coat the back of a wooden spoon, about 5 minutes. Stir in the whiskey. To serve, garnish with blackberries, slice the cake and spoon the custard over each slice.

Disclaimer: LittleShamrocks.com is an affiliate website that receives commissions from sales of the products listed. We have purchased and sampled many, but not all, of the products on these pages.

© Copyright LittleShamrocks.com. All Rights Reserved.