Driving in Ireland was the first of our adventures. There we were, Americans driving in a foreign country with no experience whatsoever. The first thing we had to learn was to sit on the other side of the car where our passenger usually sits. Then we experienced shifting with our left hand instead of our right. Those things were different but only took a short time to master.
The real problem was driving on the other side of the road. We had to keep in mind that when we came to an intersection, we had to turn into the correct lane. Luckily we turned the wrong way only once and it was not on a busy road. Except for the highways and in the larger cities most of the roads were very narrow and curvy. There was usually a hedge on one side and a stone wall on the other, not leaving much room when encountering an oncoming car. It was especially unnerving when the other vehicle was a lorry (large truck).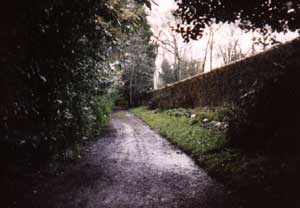 The speed limits were much faster than ours for the size of the roads but we took our time and went slow. During the summer we spent in Co. Leitrim we decided to get Irish drivers licenses. Thomas Casey took us to the license bureau in Carrick-On-Shannon. We arrived there just before noon, but they were going to close for lunch until 1:00 PM. They told us that we had to get our eyes checked and get our own photo taken at one of the local chemist shops (drug stores). Since we had an hour in which to run those errands, we went to lunch at Cryan's Pub. Each of us ordered tuna mayonnaise (tuna salad) sandwiches on potato bread and all were accompanied by a cuppa (tea).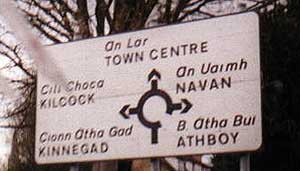 When we returned to the bureau they gave us provisional licenses which were good for six months. The reason was we had to become more familiar with sitting on the other side of the car, shifting with the other hand, driving on the other side of the road and, lastly, going around the roundabouts (traffic circles) clockwise instead of counter-clockwise. By the time the summer was over we both felt pretty comfortable behind the wheel.
Click here for the next story
Carrick-On-Shannon
.

Disclaimer: LittleShamrocks.com is an affiliate website that receives commissions from sales of the products listed. We have purchased and sampled many, but not all, of the products on these pages.

© Copyright LittleShamrocks.com. All Rights Reserved.