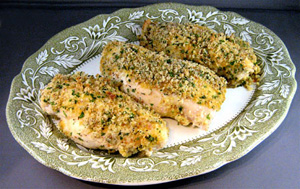 3 Tablespoons
Lakeshore Strong Irish Mustard
3 Tablespoons Creamy Italian Salad Dressing
2 Cups Soft Bread Crumbs
4 Tablespoons Chopped Fresh Parsley
2 Teaspoons Dried Thyme Leaves
4 Tablespoons Melted Butter
6 Boneless, skinless chicken breasts
Preheat oven to 400F.
Combine mustard and salad dressing in shallow bowl. Mix bread crumbs, parsley and thyme in another dish. Toss with melted butter to mix well.
Spread mustard mixture on both sides of boneless, skinless chicken breasts, then pat crumb mixture onto both sides, pressing firmly.
Bake for 30 minutes. Yield: 6 servings.

Disclaimer: LittleShamrocks.com is an affiliate website that receives commissions from sales of the products listed. We have purchased and sampled many, but not all, of the products on these pages.

© Copyright LittleShamrocks.com. All Rights Reserved.