Tyna's Irish Egg & Potato Salad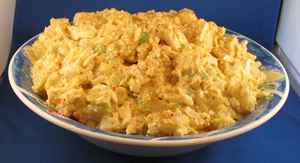 5 lb Potatoes, boiled, cooled, peeled, coarsely chopped
1 Dozen Eggs, hard boiled, cooled, peeled, coarsely chopped
1 Small Sweet Onion, finely chopped
3 Stalks Celery. finely chopped
2 Cups Mayonnaise
2 Tablespoons
Lakeshore Irish Pub Mustard
2 Tablespoons Sugar
1/2 Teaspoon Salt
1/2 Teaspoon Black Pepper
1/2 Teaspoon Paprika
1/2 Teaspoon Garlic Powder
Combine all ingredients in a large bowl and mix till everything is coated with dressing.
Turn out onto a platter or large serving bowl and sprinkle with a pinch of paprika.
Refrigerate and serve chilled.

Disclaimer: LittleShamrocks.com is an affiliate website that receives commissions from sales of the products listed. We have purchased and sampled many, but not all, of the products on these pages.

© Copyright LittleShamrocks.com. All Rights Reserved.