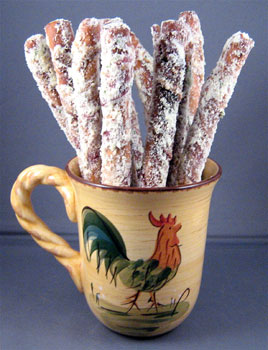 8 Slices Bacon, cut in half length wise
16 Garlic Flavored Breadsticks (Stella Dora)
3/4 Cup Grated Parmesan Cheese
2 Tablespoons Chopped Fresh Parsley
Wind one piece of bacon around each breadstick, diagonally. Combine the Parmesan cheese and parsley and turn out onto a flat surface.
Using 4 breadsticks at a time, place them on a double layer of paper towels in the microwave. Cook for 2-1/2 minutes on high (do not overcook as breadsticks will burn). Immediately roll each breadstick in the cheese and Parmesan coating. Continue until you have 16 Shillelagh sticks.
Note:
If you prefer a softer breadstick, purchase 2 packages of Pillsbury refrigerated breadsticks. Wrap each one with the bacon, as above, place on a baking sheet and cook according to the package directions; then roll in the coating.

Disclaimer: LittleShamrocks.com is an affiliate website that receives commissions from sales of the products listed. We have purchased and sampled many, but not all, of the products on these pages.

© Copyright LittleShamrocks.com. All Rights Reserved.