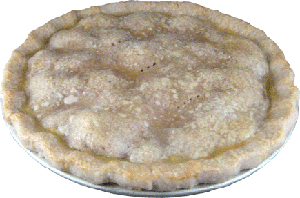 12 oz All-Purpose Flour, sifted
1/2 Teaspoon Ground Cinnamon
3 oz Vegetable Shortening
3 oz Chilled Butter, diced
3 oz Chilled Water
Pinch of Salt
2 lb. Cooking Apples
1 Cup Sugar
1 Teaspoon Ground Cloves
1 Tespoon Ground Nutmeg
12 oz Blackberries
1 Egg, beaten
Preheat oven to 350F.
Prepare the pastry. Place the flour in a large bowl and stir in the cinnamon and salt. Rub in the butter and shortening with your fingertips until the mixture resembles fine breadcrumbs. Make a well in the center and add the chilled water. Bring the mixture together using a round-bladed knife. Once it has come together, knead for a brief moment and place in a plastic bag and refrigerate for 30 minutes.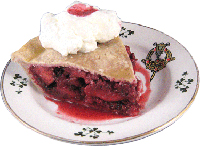 Peel and core the apples. Cut into large chunks and place them in a saucepan with the sugar, cloves and nutmeg. Cover with a lid and gently cook for 5 minutes or until the apples have softened. Fold in the blackberries and remove the saucepan from the heat. Cool completely.
Remove the pastry from the fridge and roll out 2/3 on a lightly floured surface. Line an 8 inch metal pie plate. Prick the base of pastry with a fork. Strain the fruit, reserving the juices and spoon the fruit mixture into the crust. Roll out remaining pastry and lay over the fruit.
Lift back the edge and brush the base with a little egg and seal the edge. Trim and crimp the pastry edges. Brush the surface with the remaining egg and make a couple of slits in the top. Scatter a little more sugar over the pastry and bake for 35 minutes. Serve hot or cold with ice cream or fresh whipped cream.

Disclaimer: LittleShamrocks.com is an affiliate website that receives commissions from sales of the products listed. We have purchased and sampled many, but not all, of the products on these pages.

© Copyright LittleShamrocks.com. All Rights Reserved.