We had such a good time with Gerry Bohan on our last trip that we took him with us everywhere this time too. Not only did we go searching cemeteries but we went shopping, dining and clubbing with him. We would take turns buying dinners and drinks, and had so much fun.
We will take the credit, or the blame, for getting Gerry hooked on SubWay. They had a relatively new SubWay sandwich shop in Carrick and Gerry had never heard of it before. We went there two or three times, and he seemed to really like the roast beef subs. We also went to a McDonald's style eatery in Carrick. The two times we went to Ballinamore we ate at the Commercial & Tourist Hotel and Pub. We had home cooked bacon and cabbage the first time and potato soup with a sandwich the second time. When we were in Dromod, Gerry took us to The Brandywell, which is a restaurant and pub. In Mohill, we ate at Clarke's Pub, Cafe Europa and The Spire; the latter two served fast food.
We went shopping mostly in Carrick to Quidsworth, Pounds Cheaper, the new Tesco and the brand new Heaton's. Quidsworth and Pounds Cheaper are similar to the Dollar Stores in the States. Tesco is the area's first large scale grocery store with small departments for clothing, electronics, toys, etc. Heaton's is very similar to TJ Maxx or Marshall's, mostly clothing with brand names for less. The shops at Blanchardstown, Co. Meath were more like the stores we have in our malls.
Gerry, Terry and I made the rounds of the Mohill pubs, which were O'Brien's, O'Carolans, Clarke's, Gordon's and Casey's. On our first Friday, June 29th, we were in O'Brien's talking about where we were going to stay that night. Little did we know that Phil was making arrangements with a young couple just starting out in the Bed and Breakfast business. Phil said that sometimes they took in overflow from her B & B.
They were Jim and Tricia Legatt from Shannagh B & B. Shannagh is a new housing development at the top of the town in Mohill, behind St. Patrick's Catholic Church. They had a lovely home and a cute dog named Sparky. They were recent arrivals to Mohill, formerly living in Spain and London. Jim is British and Trish has family ties to Mohill, as her mother lives nearby. We spent one very restful night in one of their en-suite rooms and had a super breakfast prepared by Jim the following morning.
Later in the week we were back in O'Brien's Tavern when a large number of cyclists rode in to stay the night. They were the Rowan Family Cyclists from Omagh, Co. Tyrone, Northern Ireland. They were cycling from the Southern most point of Ireland, in Mizenhead, Co. Cork, to the Northern most point in Malinhead, Co. Donegal. Their trip was to raise money for charity, Meningitis Research. Noel and Maria McCarter were driving the support van and it is her family, the Rowans, and several friends who were making the trek. After they had a brief rest, and a hot toddy, they all came down to the bar and played darts. O'Brien's was quite lively that night.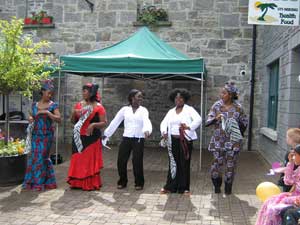 On our last Saturday night in Ireland, we started out in O'Brien's, moved to O'Carolan's, Clarke's, then back to O'Brien's. That was another busy night everywhere we went. The Irish football tournament had ended that day and there were many young people around that were dressed for a ball. Gerry told us that they were going to a Debutante Ball in Carrick. When I think of debutantes, I think of the cream of society and the coming-out parties they give their daughters. When I mentioned this to Gerry, he said that anyone and everyone goes to this ball but they do dress formally. He said that it's kind of like an after graduation prom. Learn something new every day.
On Monday we went to dinner at Clarke's. I called Sean over to our table and told him I would like to do a story for LittleShamrocks.com about the expansion of his facilities. He said that he would have his manager give us a tour and any information we wanted. I thanked him and we continued our dinner.
9/25/2007 Update
Note: I received a lovely e-mail from Noel and Maria McCarter with the results of their fundraising event for Meningitis Research. Their cycling group, The Rowan Family Cyclists, finished their challenge on a wet Thursday in Malinhead, Co. Donegal. They raised 10,000 Pounds for the charity.
Thank you, Noel and Maria, for the update and congratulations!
Click here for more information about
Shannagh B & B.
Click here for the next story
Clark's Rynn Valley Lodge
.

Disclaimer: LittleShamrocks.com is an affiliate website that receives commissions from sales of the products listed. We have purchased and sampled many, but not all, of the products on these pages.

© Copyright LittleShamrocks.com. All Rights Reserved.