Hi everyone,
I hope that all of your June events went off without a hitch. Now you can enjoy some other summertime past times like fishing, swimming, sailing and sporting events. My granddaughter, Jordan, completed her rookie year of Cal Ripkin Little League Baseball in Newport, and she received a nice plaque and photo.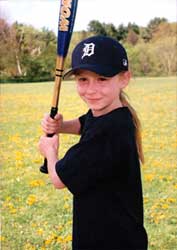 My granddaughter Jordan
Lou is busy adding many new products to LittleShamrocks.com. These are from one of our newer affiliate companies, and they are of the same fine quality Irish food and gifts. They will include some new brands of jams, baking needs, etc., as well as an assortment of several more gift baskets and Irish cheeses.
My sister, Marylou, who has been following the Willett branch of our family tree, gave me a few tidbits she learned about our Irish famine immigrant great-great grandparents, Michael Casey and Mary Ann (Denning) Casey. I didn't know the names of our great grandmother, Anna's, siblings. She had two brothers, Patrick and Edward, and one sister, Catherine; along with Anna, all four of them were born in the Province of Quebec, Canada.
Patrick was the oldest (d.o.b. 1854), married Lizzie D., and they had two children, a daughter, Kate, and a son, John. This information came from the 1880 U.S. Census and Patrick was listed as the only sibling who could read and write. Edward was the second born (d.o.b. 5-18-1855), was never married and was employed as a marble polisher. He passed away on 1-11-1927 at the age of 71.
Anna (d.o.b 4-18-1857) was the third born. She was married to Edward Willett, Jr. and had three children, two sons, Jeremiah and Charles, and one daughter, Clara. Jeremiah was my grandfather. Anna was a homemaker and she passed away at Mary Fletcher Hospital in Burlington on 11-15-1914 at the age of 57. Her funeral Mass was observed at St. Mary's Cathedral in Burlington, Vermont, and she was buried at St. Joseph's Catholic Cemetery, also in Burlington.
Catherine was the youngest (d.o.b. June 1861), and was also never married. She was employed as a domestic and passed away in Burlington on 9-27-1913 at the age of 52. Her residence was listed as 30 Spruce Street in Burlington. As a young child, in the 1950's, I remember our family stopping at Clara's house on Spruce Street. She and her husband, Henry Killary, owned the house at the time and it is possibly the same house which was passed down in the family.
| | | |
| --- | --- | --- |
| | | |
| Anna Casey Willett | | Edward Willett Jr. |
Patrick and his family must have moved elsewhere because, at present, no death records have been found for him or his family in Burlington, Vermont. In Anna's obituary, Patrick was not listed as a surviving sibling, so he must have died prior to 1914. Their parents, Michael and Mary Ann Casey, are buried in one of the Catholic cemeteries in Burlington. Marylou also gave me copies of some photos of Anna and her husband, Edward Willett Jr., taken sometime between 1873 and 1886.

Sláinte,
Tyna

Disclaimer: LittleShamrocks.com is an affiliate website that receives commissions from sales of the products listed. We have purchased and sampled many, but not all, of the products on these pages.

© Copyright LittleShamrocks.com. All Rights Reserved.