Guinness Stout Chocolate Layer Cake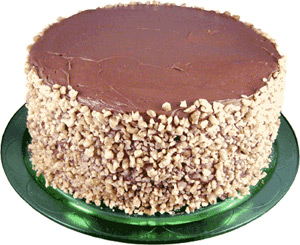 From the kitchen of Kells Irish Pub, Portland, Oregon
One of my sisters gave me this recipe that she found in a magazine, so I chose to make it for her recent birthday. It tasted as good as it looks!
Drizzling Syrup:
1/2 Cup Guinness Stout
1/2 Cup Dark Brown Sugar
3 Tablespoons Unsweetened Cocoa Powder
1 Teaspoon Vanilla
Cake:
2/3 Cup Guinness Stout (measured after foam has subsided)
2/3 Cup Currants
1/2 Cup plus 2 Tablespoons Unsweetened Cocoa Powder
2 oz Semisweet Chocolate Chips
3/4 Cup Buttermilk
1 3/4 Cups plus 2 Tablespoons Sugar
2 Cups plus 2 Tablespoons All-Purpose Flour
Cooking Spray
2/3 Cup Butter, softened
4 Eggs
1 1/2 Teaspoons Vanilla
1 1/2 Teaspoons Baking Soda
1/2 Teaspoon Baking Powder
1/4 Teaspoon Salt
1/2 Cup Red Currant Jelly, warmed
Bittersweet icing:
(Start one day ahead)
1 1/2 Cups Heavy Cream
6 oz Bittersweet Chocolate Chips
4 1/2 Tablespoons Confectioners Sugar
4 1/2 Tablespoons Cocoa
1 1/2 Teaspoons Vanilla
1/8 Teaspoon Salt
1 Cup Chopped Walnuts
To prepare Bittersweet Icing, bring cream to a boil. Place chocolate in a heatproof bowl, pour boiling cream over it and whisk until chocolate melts and is thoroughly combined. Cover tightly and chill over night. Chill beaters from mixer at the same time.
To prepare syrup, combine all ingredients in a small, heavy saucepan, whisking until smooth. Heat over medium heat, until sugar dissolves and syrup is smooth. Set aside. To prepare cake, pour stout over currants; cover and soak until plump. Drain currants, reserving stout. Add stout to a small saucepan. Whisk in 1/3 cup cocoa and bring to a simmer. Remove from heat; add semisweet chocolate, stirring until chocolate melts. Cool slightly; stir in buttermilk.
Preheat oven to 350F.
Combine 2 tablespoons cocoa, 2 tablespoons sugar and 2 tablespoons flour. Coat two 8" or 9" square or round cake pans with cooking spray; dust with cocoa mixture.
Beat butter with a mixer at medium speed until smooth. Gradually beat in 1 3/4 cups sugar until well blended. Beat in eggs one at a time. Beat in vanilla.
Combine 2 cups flour with baking soda, baking powder and salt. Add flour mixture to butter mixture alternately with chocolate mixture, stirring until blended (batter may look curdled). Stir in currants.
Divide batter between pans. Bake 25 to 30 minutes, until a wooden pick inserted in the center comes out clean. Cool in pans on wire rack 10 minutes; invert onto rack to finish cooling.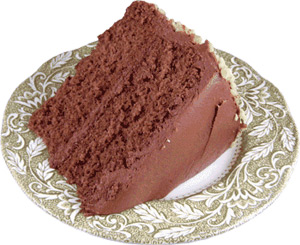 While cake cools, finish preparing the icing. Remove icing mixture from the refrigerator and whip with electric mixer. When soft peaks form, sift in confectioners sugar and cocoa; add vanilla and salt. Continue whipping until combined.
Poke tops of cake layers with a skewer or toothpick. Spoon Drizzling Syrup over tops. Place one layer on a platter. Spread warmed jelly over layer on the platter. Chill 30 minutes. Cover jelly with about a quarter of the Bittersweet Icing. Place second layer on top.
Ice top and side of the cake with the remaining icing. Press nuts into sides of cake. Yield: 16 servings

Disclaimer: LittleShamrocks.com is an affiliate website that receives commissions from sales of the products listed. We have purchased and sampled many, but not all, of the products on these pages.

© Copyright LittleShamrocks.com. All Rights Reserved.