It was our first night at the farmhouse in Drumgrania. We had just finished a big meal I had cooked using some of the recipes in one of the Irish Cookbooks that I had just purchased. There was a warm misty rain falling and the air was clean with the smell of freshly mown hay. It was about 11:00 PM; the sun was just going down. Yes, at 11:00 PM! We had been unpacking and putting things in their places when we decided to go outside to enjoy the night air. We had brought chairs out to the front yard and closed the door to sit outside. Well, little did we know that the front door had an automatic lock and, there we were, locked out of our perfect little farmhouse!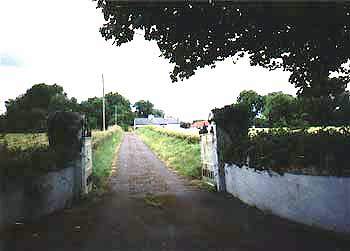 Oh, what were we going to do! We were seven miles from town and it was late. Luckily, when I had cleaned the bathtub, I had opened a window slightly because it was a wee bit musty after being closed up for a while. However, this was a louvered window that only opened at an angle. We opened it up as far as it would go leaving very little room to crawl through. There was nothing outside to stand on and I was too short to reach it. Terry, at 6' 2" was a much better candidate for the task. He squeezed himself through the lowest part of the window and, with me pushing on his back side, he got stuck. Oh, my, now what!! He told me to take his wallet out of his back pocket, unbuckle his belt and take it off. You wouldn't think that would be enough but it just barely was. He pulled himself up, I pushed him in and he landed with a thump in the bathtub head first.
It wasn't funny because he was really stuck but we were both laughing so hard that we stayed up half the night talking about it. After that, we always made sure that the back door was unlocked before we went outside.
Click here for the next story
Lost in Leitrim
.

Disclaimer: LittleShamrocks.com is an affiliate website that receives commissions from sales of the products listed. We have purchased and sampled many, but not all, of the products on these pages.

© Copyright LittleShamrocks.com. All Rights Reserved.