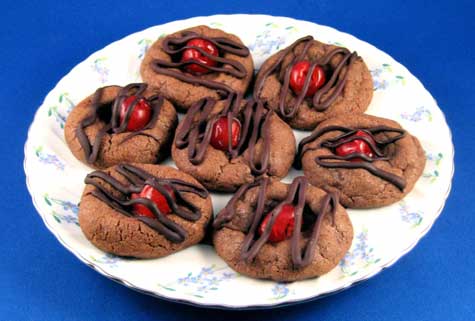 3 Cups All-Purpose Flour
2/3 Cup Unsweetened Cocoa Powder
1/2 Teaspoon Baking Soda
1 Cup White Sugar
1 Cup Light Brown Sugar, firmly packed
1 Cup Salted Butter, softened
2 Large Eggs
2 Teaspoons Vanilla Extract
2 Cups Miniature Semisweet Chocolate Chips
Maraschino cherries
Melted chocolate chips for drizzling
Preheat oven to 400F.
In a medium bowl combine flour, cocoa and baking soda. Set aside. Combine sugars in a large bowl. Using an electric mixer, blend in butter, scraping down the sides of the bowl.
Add eggs and vanilla, and beat at medium speed until light and fluffy. Add the flour mixture and chocolate chips, and blend at low speed until combined. Batter will be very stiff. Roll dough into 1 inch balls and place on un-greased baking sheets, 2 inches apart.
With the 2nd knuckle on your index finger, make indentations and fill each one with 1 whole cherry. Bake 8 to 10 minutes. Cool on pan 2 minutes, then transfer to a cool, flat surface.
When completely cool, drizzle melted chocolate chips over the top of each cookie. Yield: about 5 dozen

Disclaimer: LittleShamrocks.com is an affiliate website that receives commissions from sales of the products listed. We have purchased and sampled many, but not all, of the products on these pages.

© Copyright LittleShamrocks.com. All Rights Reserved.