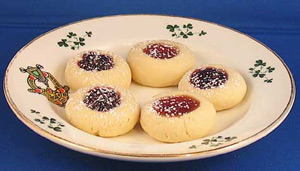 1 Cup Salted Butter
1/2 Cup Confectioner's Sugar
2 Teaspoons Pure Vanilla Extract
2 Cups All-Purpose Flour
1/4 Teaspoon Salt
1/4 Cup Chivers Blackcurrant Jam }
1/4 Cup Chivers Gooseberry Jam } Set Aside
1/4 Cup Confectioner's Sugar }
Preheat oven to 325F.
Cream butter and sugar with an electric mixer. Add vanilla.
Beat in flour and salt till thoroughly combined. Roll dough into 1 inch balls and place 1 inch apart on lightly greased cookie sheet.
Using the second knuckle of your index finger, make a depression in the center of each ball.
Fill 1 dozen with 1 teaspoon each of Chivers Black Currant Jam, and 1 dozen with 1 teaspoon each of Chivers Gooseberry Jam.
Bake 18 minutes or until golden brown. Remove from pan immediately to a cooling rack.
When completely cooled, dust lightly with confectioner's sugar.
Yield: 2 dozen.

Disclaimer: LittleShamrocks.com is an affiliate website that receives commissions from sales of the products listed. We have purchased and sampled many, but not all, of the products on these pages.

© Copyright LittleShamrocks.com. All Rights Reserved.