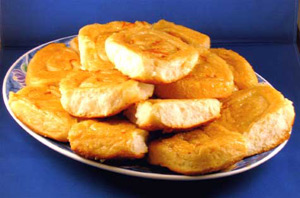 My mother found this recipe in a 1939 magazine. I don't know the name of the magazine or the creator of the recipe, so I have always called these Mom's Orange Rolls. I have revised it to make in a bread machine with a dough cycle, and I use orange marmalade as the filling.
1 Package Dry Yeast (2 Teaspoons)
1 Cup Milk
1/4 Cup Sugar
1 Egg, well beaten
1 Teaspoon Salt
3 1/2 Cups Sifted All-Purpose Flour
1/4 Cup Soft Shortening (part butter for flavor)
1 Jar Chivers Orange Marmalade 454g (16 oz.) cold and thick, for filling
Using a bread machine with the dough cycle, place the milk, egg and shortening into the bottom. Top with the flour, sugar and salt, being careful not to disturb the liquid. Make a well in the center of the dry ingredients and put in the yeast, making sure not to let the yeast touch the liquid. Press the "Dough" cycle and "Start". This takes about 1 1/2 hours.
Remove from the bread machine onto a lightly floured board. Knead lightly and round up on the board. Cover with a damp cloth and let stand about 15 minutes to loosen up.
Roll out dough about 1/3 inch thick into a narrow oblong about 9" x 18". Spread with the cold, thick orange filling. Keep the greater part of the orange filling in the center. Spread it only to within about 1 inch of the edge all around, as it spreads further as the dough is rolled.
Roll up like a jelly roll, being careful not to squeeze out the filling. Now pinch the edges to seal firmly and place roll on waxed paper. Cut with a very thin, sharp knife into slices about one inch wide. If any filling squeezes out, save it to drop onto the rolls when they are in the pan. Place slices cut side down in a well greased oblong pan. Cover with a damp cloth and let rise until almost double in bulk - 40 to 45 minutes.
Bake 5 minutes at 400F, then reduce heat to 375F, and bake 25 to 30 minutes longer. Cover with aluminum foil If the top gets too brown. Turn pan upside down over a large tray or platter. Let the pan stay over the rolls for a minute to allow orange mixture to run down over them. Serve upside down with the sticky glaze on top.
Optional: drizzle a thin mixture of confectioner's sugar and milk over each roll, sticky side up.

Disclaimer: LittleShamrocks.com is an affiliate website that receives commissions from sales of the products listed. We have purchased and sampled many, but not all, of the products on these pages.

© Copyright LittleShamrocks.com. All Rights Reserved.