It was Saturday, and our last full day in Mohill, so there was a lot to do. We had to get our laundry done, pack our suitcases and stop to see our friends one more time. When we were visiting with the Caseys, I started feeling the time slipping by very quickly. We still wanted to visit the Bohans, John Reynolds, and get ready for the dance at O'Carolan's Pub. We said farewell to Thomas, Maura and Irene and went back to our room to shower and dress.
We left O'Brien's at about 5:30 PM to visit Teresa at Lough Rynn. She, Gerry, Terry and I had a wonderful hour together. We were supposed to meet John Reynolds at 7:00 PM so we left and Gerry caught a ride into town with us. While we were visiting with John, Gerry went to O'Brien's where we connected with him later.
We arrived back at O'Brien's and had a drink with Gerry. After a while, Vincent Shanley showed up and he was dressed for a night out. The four of us laughed and joked and then Vincent left. At about 9:00 PM, we went across the street to O'Carolan's for the dance. When we walked in, there was Vincent. Gerry Mahan was there, as well, but Paedar and Ilene and Pascal and Pauline were not, and they never did come.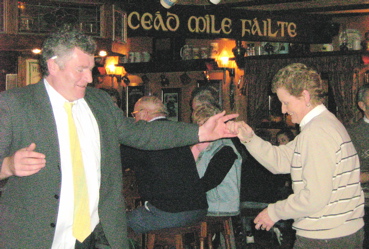 We sat in the back near the peat fire and Vincent bought us a drink. The music had just started and the dance floor was packed. There was a man with a guitar who was playing a combination of music from 50's and 60's rock and roll to country and traditional Irish party tunes. Vincent asked me if I wanted to 'jive'. Not being used to a few of their colloquialisms, I said "Pardon me, but what is that?" He was asking me to dance rock and roll style. "Oh, okay", I said. It had probably been at least fifteen years since I had done that so I asked him to go easy on me. It was so much fun!! I sat down afterwards with Terry, while Vincent went to dance again.
While Terry and I were sitting there, another crowd of people came in and sat near us. There was a foursome right next to us but we only caught one man's name, Shamus Reynolds. Across the way, there was an entire family, a different John Reynolds, his wife and two daughters. Then we met a man named Noel on the other side. George Taylor, who was one of the men we met in 1998 came in rather late. He sat down with us for a while and I tried to take a photo of him but it didn't turn out very well.
Terry and I got up and danced to a couple of slow songs. I noticed that Gerry had been dancing but wasn't dancing to the song that was playing. So, I asked him if he wanted to but he said that he didn't dance well to slow ones. Terry and I started dancing, then Gerry must have changed his mind because he cut in, and, he was right, he didn't dance well to slow songs ... just ask my feet!
We enjoyed our night out at the dance immensely but we had an early morning ahead and a long drive to Co. Meath. We excused ourselves and went back to O'Brien's. We said goodbye to Gerry Bohan and went up to bed.
Click here for the next story
Glebe Street Departure
.

Disclaimer: LittleShamrocks.com is an affiliate website that receives commissions from sales of the products listed. We have purchased and sampled many, but not all, of the products on these pages.

© Copyright LittleShamrocks.com. All Rights Reserved.