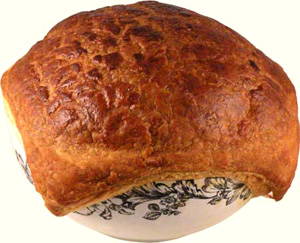 Ingredients:
2 lb Boneless Beef Chuck, cut into 1-inch pieces
2 Tablespoons All-Purpose Flour
1 Teaspoon Salt
1/2 Teaspoon Black Pepper
2 Tablespoons Vegetable Oil
1 Large Onion, coarsely chopped
2 Garlic Cloves, chopped
3 Tablespoons Water
1-1/2 Tablespoons Tomato Paste
1 Cup Beef Broth
1 Cup Guinness or other Irish Stout
1 Tablespoon Worcestershire Sauce
2 Teaspoons Drained Brined Green Peppercorns, coarsely chopped*
2 Fresh Thyme Sprigs
Rough Puff Pastry Dough
1 Large Egg, lightly beaten
1 Tablespoon Water
Special equipment:
4 (14-oz) deep bowls or ramekins (5 to 6 inches wide or similar-capacity ovenproof dishes)
Preheat oven to 350F.
Preparation:
Put oven rack in middle position.
Pat beef dry. Place flour, salt, and pepper in a 1-quart zipper baggie and shake to combine. Add beef, shake, then shake off excess and transfer to a plate. Heat oil in a wide 5 to 6 quart ovenproof heavy pot over moderately high heat until just smoking, then brown meat in 3 batches, turning occasionally, about 5 minutes per batch, transferring to a bowl.
Add onion, garlic, and water to pot and cook, scraping up any brown bits from bottom of pot and stirring frequently, until onion is softened, about 5 minutes. Add tomato paste and cook, stirring, 1 minute. Stir in beef with any juices accumulated in bowl, adding broth, beer, Worcestershire sauce, peppercorns, and thyme; and bring to a simmer, then cover and transfer to oven. Braise until beef is very tender and sauce is thickened, about 1 1/2 hours. Discard thyme and cool stew completely, uncovered, about 30 minutes. (If stew is warm while assembling pies, it will melt uncooked pastry top.)
Put a shallow baking pan on middle rack of oven and increase oven temperature to 425F.
Divide cooled stew among bowls (they won't be completely full). Roll out pastry dough on a lightly floured surface with a lightly floured rolling pin into a 13-inch square, about 1/8 inch thick. Trim edges and cut dough into quarters. Stir together egg and water and brush a 1-inch border of egg wash around each square. Invert 1 square over each bowl and drape, pressing sides lightly to help adhere. Brush pastry tops with some of remaining egg wash and freeze 15 minutes to thoroughly chill dough.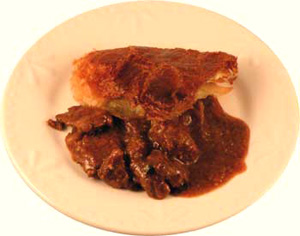 Bake pies in pre-heated shallow baking pan until pastry is puffed and golden brown, about 20 minutes.
Reduce oven temperature to 400F and bake 5 minutes more to fully cook dough. Yield: 4 servings
* One option is to soak dried green peppercorns in warm stock or a little white wine vinegar; depending upon how they were dried, they may plump up, This would give you the peppery flavor that the recipe intends.

Disclaimer: LittleShamrocks.com is an affiliate website that receives commissions from sales of the products listed. We have purchased and sampled many, but not all, of the products on these pages.

© Copyright LittleShamrocks.com. All Rights Reserved.