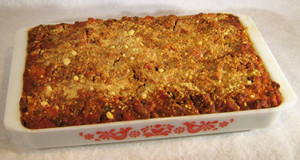 Recipe Semi-homemade Pasta Sauce 15 Strips of Lasagna, cooked and cooled
Filling:
3 Cups Ricotta Cheese
3 Cups Grated Mozzarella Cheese
1 Cup Grated Parmesan Cheese
2 Large Eggs
1 Tablespoon Parsley Flakes
1/2 Teaspoon Pepper
1/2 Teaspoon Salt
Extra Parmesan Cheese for sprinkling on top
Preheat oven to 350F.
In a large bowl, combine all ingredients until well blended. Spray 13 x 9 inch baking pan with cooking spray and coat the bottom with sauce. Spread about 3 tablespoons of filling on 1 lasagna noodle. Roll up the lasagna and place in baking pan, seam down; repeat until you have filled the pan with 3 rows of 5 roll-ups. Cover completely with sauce and sprinkle with more Parmesan cheese. Place pan in the oven on a cookie sheet and cook at 350 for 30 minutes. Yield: 12 Roll-Ups

Disclaimer: LittleShamrocks.com is an affiliate website that receives commissions from sales of the products listed. We have purchased and sampled many, but not all, of the products on these pages.

© Copyright LittleShamrocks.com. All Rights Reserved.