Tyna's Macaroni Salad With Crabmeat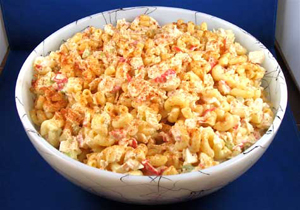 1 lb Elbow Macaroni
1 lb Chopped Crabmeat or Imitation Crabmeat (Sea Legs)
1/2 Cup Chopped Onion
1/2 Cup Chopped Celery
Dressing
:
2 Cups Mayonnaise
1 Teaspoon Yellow Mustard
1/4 Teaspoon Garlic Powder
1/4 Teaspoon Paprika
1/2 Teaspoon Salt
1/2 Teaspoon Pepper
1 Tablespoon Sugar
Cook, drain and rinse macaroni under cold water until completely cool. Place in a large bowl with crabmeat, onion and celery. Mix the ingredients of the dressing well until smooth.
Pour over macaroni mixture and stir well to coat all of the ingredients. Turn out into a bowl and sprinkle with paprika. Cover and chill at least 2 hours, then serve cold

Disclaimer: LittleShamrocks.com is an affiliate website that receives commissions from sales of the products listed. We have purchased and sampled many, but not all, of the products on these pages.

© Copyright LittleShamrocks.com. All Rights Reserved.