Honey and Raisin Brown Bread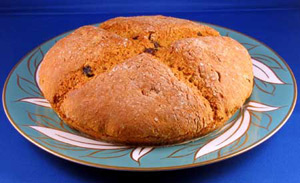 2 1/2 Cups Odlums Brown Bread Mix
1/2 Cup Raisins
2/3 Cup Cold Water
2/3 Cup Honey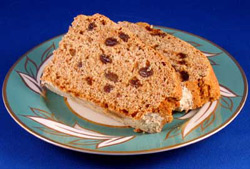 Preheat oven to 400F.
Combine all ingredients in a large bowl. Dough should be soft, but if it is too soft, add a small amount of brown bread mix.
Turn out onto a lightly floured board and knead about 10 times. Smooth into a round and place into an 8 inch pie tin. With a sharp knife, cut a deep cross into the top.
Bake at 400 for 40 minutes. It should sound hollow when tapped on the bottom. Cool on a wire rack. Serve with butter and honey or jam.

Disclaimer: LittleShamrocks.com is an affiliate website that receives commissions from sales of the products listed. We have purchased and sampled many, but not all, of the products on these pages.

© Copyright LittleShamrocks.com. All Rights Reserved.