Quick Borsch (Beet & Cabbage Soup)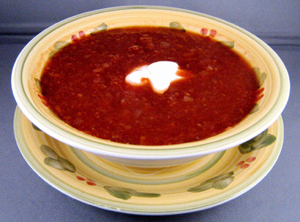 My maternal grandparents came from Russia and Poland. My grandmother would save the beef stock after she made a pot roast and would make this soup. My mother revised the recipe and I have revised it again. This is my version.
1/2 Small Head Cabbage
2 Cans Whole Baby Beets (reserve liquid)
1 Cup Water
2 Carrots, peeled
2 Cans Consommé Soup
2 Cans Beef Bouillon Soup
3 Cups V-8 or Tomato Juice
1 Medium Onion, chopped
1 Tablespoon Butter
1 Cup Ketchup
1/4 Cup Cider Vinegar
Salt & Pepper to taste
Sour Cream
Using a food processor, grate the cabbage, carrots and beets. Cook vegetables in the Consommé, bouillon, tomato juice, beet liquid and water. Simmer until vegetables are tender, then add vinegar (add more or less to taste).
Finish off by sautéing the onion in butter until transparent. Stir in ketchup to the onion and add to the soup. Salt and pepper to taste. Serve with a dollop of sour cream.

Disclaimer: LittleShamrocks.com is an affiliate website that receives commissions from sales of the products listed. We have purchased and sampled many, but not all, of the products on these pages.

© Copyright LittleShamrocks.com. All Rights Reserved.