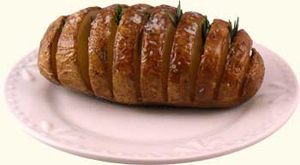 6 Baking Potatoes (about 2 lbs total), scrubbed olive oil for drizzling sea salt for sprinkling
1 Bunch Fresh Rosemary
Preheat the oven to 400F.
Put each potato on a cutting board and lay a wooden spoon next to it. Cut each potato into 8 to 10 slices three-quarters of the way through, bringing the knife down until you reach the handle of the spoon. This will leave the base of the potato intact.
Put the potatoes in a roasting pan, drizzle with olive oil, and sprinkle with salt. Place a sprig of rosemary between each slice. Bake for 40 to 50 minutes, or until tender. Remove the rosemary sprigs and replace with fresh ones for serving. Serves 6

Disclaimer: LittleShamrocks.com is an affiliate website that receives commissions from sales of the products listed. We have purchased and sampled many, but not all, of the products on these pages.

© Copyright LittleShamrocks.com. All Rights Reserved.