Prawn Bundles with Herb Mayonnaise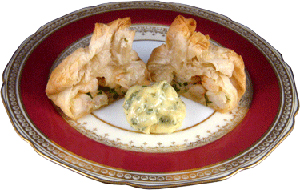 1 1/4 lb Frozen Prawns, thawed
1/3 Cup Dry White Wine
3/4 Cup Chopped Chives
2 Pinches Cayenne Pepper
8 Sheets Filo Pastry
6 Tablespoons Butter, melted
Chopped Chives, to garnish
Salt and Pepper
Herb Mayonnaise:
1 Cup Mayonnaise
1/2 Teaspoon Curry Powder
1/2 Teaspoon Mustard
1/2 Cup Chopped Chives, to garnish
Juice of One Lemon
Pinch of Black Peppercorns
Preheat oven to 400F.
Gently poach the prawns in wine, lemon juice and peppercorns until they start to change color. Drain and sprinkle with chives, cayenne pepper, salt and pepper.
Prepare the herb mayonnaise. Place the mayonnaise in a bowl; add the curry powder, mustard and chives and mix well. Refrigerate until needed.
To assemble the parcel, take one sheet of filo pastry and brush liberally with butter. Cut into six equal squares and place them on top of each other. Repeat with all the remaining sheets.
Place two tablespoons of the prawn mixture on top of the filo square and gently bring the corners up around it, forming a parcel. Tie with string and place on a baking tray. Repeat until the prawns are all used. Bake in a preheated oven for 15 minutes or until all of the parcels are golden and crisp. Remove the string, garnish with chopped chives and serve on a bed of herb mayonnaise. Serve as an appetizer.

Disclaimer: LittleShamrocks.com is an affiliate website that receives commissions from sales of the products listed. We have purchased and sampled many, but not all, of the products on these pages.

© Copyright LittleShamrocks.com. All Rights Reserved.