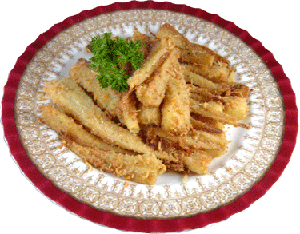 6 oz. All-purpose Flour, sifted
4 oz. Grated Parmesan Cheese
2 lb. Parsnips, peeled and quartered lengthways
Olive Oil Cooking Spray
Salt and Freshly Ground Pepper
Preheat oven to 400F.
Combine the flour, cheese, salt and pepper in a mixing bowl. Boil the parsnips for one minute; drain.
To bake, thoroughly spray a baking sheet with cooking spray. Sprinkle half the cheese mixture onto the sheet. Lay the parsnips next to each other in a single layer. Spray the parsnips with cooking spray and sprinkle with the other half of cheese mixture. Place the pan in the oven and bake for 20 minutes, then turn over and continue baking for another 15 to 20 minutes or until crisp and golden. Serve as an appetizer with your favorite dip.

Disclaimer: LittleShamrocks.com is an affiliate website that receives commissions from sales of the products listed. We have purchased and sampled many, but not all, of the products on these pages.

© Copyright LittleShamrocks.com. All Rights Reserved.