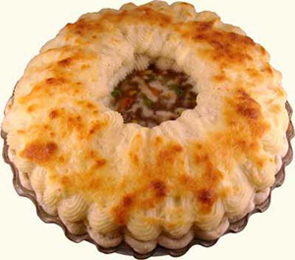 1 lb Cooked Lean Ground Beef
1 Large Potato, cubed and cooked
1 Cup Cooked Whole Kernel Corn
1 Cup Cooked Peas
1 Cup Diced Cooked Carrots
3 Green Onions, sliced
1 Clove Garlic, minced
1 Teaspoon Black Pepper
2 Cups Prepared Brown Gravy
3 Cups Cooked and Mashed Potatoes
1/2 Cup Finely Shredded
Irish Cheddar Cheese
Preheat oven to 350F.
In a large bowl, combine ground beef, potatoes, peas, carrots, green onions, garlic, black pepper and brown gravy.
Spray 9-inch deep dish pie plate or casserole dish; fill with mixture. Spoon mashed potatoes around outside edge of pie, leaving an opening in the center for steam to escape. Sprinkle potatoes with shredded cheese. Bake 30 minutes at 350F or until cheese is golden brown and meat mixture is bubbly. Yield: 4 to 6 servings.

Disclaimer: LittleShamrocks.com is an affiliate website that receives commissions from sales of the products listed. We have purchased and sampled many, but not all, of the products on these pages.

© Copyright LittleShamrocks.com. All Rights Reserved.