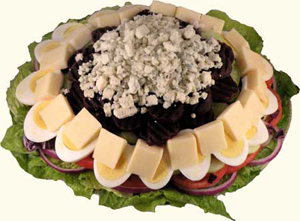 Ingredients for Dressing:
1/2 Cup Regular or Low-Fat Mayonnaise
2 Tablespoons Malt Vinegar or White Wine Vinegar
2 Teaspoons Chopped Fresh Tarragon or 3/4 Teaspoon Dried
1 Teaspoon Whole Grain Dijon Mustard
2-3 Teaspoons Water
Combine mayonnaise, vinegar, tarragon and Dijon mustard in small bowl and whisk to blend. Whisk in enough water by teaspoonsful to make dressing thin enough to pour. Season to taste with salt and pepper.
Ingredients for Salad:
4 Cups Torn Romaine Lettuce
4 Cups Selected Salad Bar Ingredients (pickled beets, sliced cucumber, sliced tomatoes,
Sliced Celery, Sliced Onions, Grated Red Cabbage)
5 Hard-Boiled Eggs, peeled, sliced
4 oz Cheddar Cheese, cut into wedges
4 oz Blue Cheese Crumbles
Arrange lettuce on platter as base of salad. Place salad bar ingredients, eggs and cheddar cheese over lettuce in attractive pattern. Top with crumbled blue cheese. Drizzle dressing over salad.

Disclaimer: LittleShamrocks.com is an affiliate website that receives commissions from sales of the products listed. We have purchased and sampled many, but not all, of the products on these pages.

© Copyright LittleShamrocks.com. All Rights Reserved.