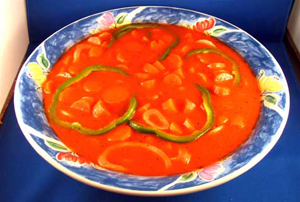 2 lb Carrots
1 Medium Onion, thinly sliced
1 Green Pepper, thinly sliced
1 Can Tomato Soup
1 Cup Vegetable Oil
3/4 Cup Cider Vinegar
3/4 Cup Sugar
1 Teaspoon Dry Mustard
1 Teaspoon Salt
1/2 Teaspoon Pepper

I always use my blender to make homemade salad dressings, like this Cuisinart bar blender for Cool Carrot Salad.
Peel carrots and cook whole until cooked but firm. Drain, cool and slice into 1/4" slices. Separate onion and green pepper into rings and place vegetables in a large bowl.
Combine the remaining ingredients in a blender until well mixed. Pour over vegetables, toss lightly and marinate overnight. Toss and serve in a small bowl with some of the dressing.

Disclaimer: LittleShamrocks.com is an affiliate website that receives commissions from sales of the products listed. We have purchased and sampled many, but not all, of the products on these pages.

© Copyright LittleShamrocks.com. All Rights Reserved.