Tyna's Favorite Pie Crust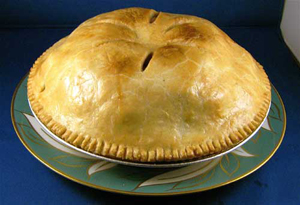 2 Cups All-Purpose Flour
1/4 Teaspoon Sugar
1/2 Teaspoon Salt
1 Pinch Ground Cinnamon
1/2 Cup (1 Stick) Unsalted Butter, chilled
3 Tablespoons Vegetable Shortening, chilled
5 Tablespoons Cold Water (approximately)
Combine the flour with the sugar, salt and cinnamon in a food processor. Add the butter and shortening and blend until the mixture has the texture of coarse crumbs. Add the water, 1 tablespoon at a time, and mix until it forms a soft dough. Do not overwork.
Refrigerate for 1 hour. This is enough pastry for a double crust 9" pie. Roll out half the pastry on a lightly floured board, line the pie plate and fill with your favorite filling. Roll out the other half of the pastry and place over the pie.
Seal, trim and flute the edges. Cut several slashes in the top pastry to release steam. Brush with a beaten egg. Place pie on a foiled lined baking sheet and bake according to your recipe.

Disclaimer: LittleShamrocks.com is an affiliate website that receives commissions from sales of the products listed. We have purchased and sampled many, but not all, of the products on these pages.

© Copyright LittleShamrocks.com. All Rights Reserved.