December 2009 Ireland Trip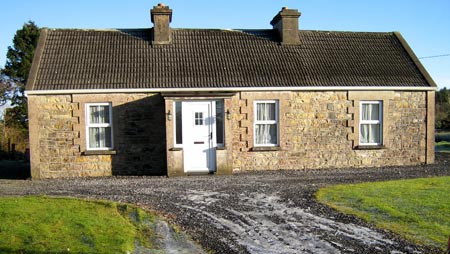 Pine Lodge, Breandrum
Terry and I had waited two and a half years to go back to Ireland. This time we wanted to spend the 2009 holidays in Ireland, and to have first-hand experiences to tell stories about our much anticipated trip.
We arrived in Dublin on my birthday, December 18th, and we had planned to celebrate at a local pub in Mohill that evening. Everything was pretty normal except there was a slight amount of snow on the ground and the temperature was a bit colder than we expected.
We drove into Mohill, Co. Leitrim and made our first stop at O'Brien's Tavern. We always stopped there first and had a cup of tea with Phil and Jim, and chatted for a while.
They were telling us that 2009 was a year of inclement weather with more rain than usual, flooding along the River Shannon, cold, with snow and ice. We thought, oh, well, we're used to the cold and snow being from New England.
We left O'Brien's and went to find our stone cottage, Pine Lodge, in Breandrum, on the outskirts of Mohill. We thought that we may have been lost because it seemed to be much further than expected. We went back to O'Brien's and Jim kindly guided us to the property. We were on the right road but had not gone far enough to find it.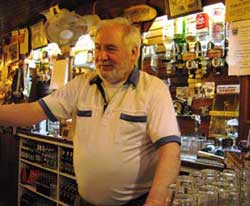 Jim O'Brien
The owner of the stone cottage, Don Flynn, lived next door. He and his wife, Pat greeted us and opened the house. The house had central heating but it was pretty cold as no one had stayed there in a while. It had a peat fireplace but we didn't have anything to start a fire with. They told us how terrible the weather had been in 2009. After visiting briefly, we took our 'jet lag nap' at about noon. We never woke up until 10:30 that night, and we didn't want to get ready and go to town so late. We watched a bit of TV, then went back to bed. So much for my birthday celebration.
The next day, before going to town, we asked the Flynn's for some more blankets, which they were happy to drop off later. We went into Mohill and picked up some supplies at the new Baxter's Centra grocery store. They had built a brand new store on Station Road, just around the corner from the old one on Main Street. We then went to the Casey's house, 'The Castle', and visited with Maura and Irene. We had a lovely visit and partook in tea and sandwiches. They told us the same story about the severe weather of 2009.
Terry and I drove out to Rynn to see Gerry Bohan at Mac Raghnaill Court, one of the new condominium complexes that was built by the company that had purchased the Leitrim Estate. They had restored the old manor house, which is now a hotel, and started several other construction projects on the grounds of the centuries old Reynolds stronghold. Unfortunately, all of the construction had stopped because of the worldwide economic situation. So Gerry, Terry and I drove into Carrick-On-Shannon to do some shopping. On the way, Gerry was telling about how Carrick had flooded and many of the downtown shops had lost everything and had to close. He said that people were getting around town in boats like in Venice.
After we dropped Gerry back home, we went home to eat and change to go out that night and to meet up with Gerry. Here it was, a Saturday night, during the holidays, and everything was practically dead. There was no one out and about, some pubs had to cancel their live music. And, again, it was because of the weather ... cold, snowy, icy weather. Well, needless to say, we didn't have that great a time, but the ride home was treacherous. I am used to driving in the snow and ice, although I don't like to, but I've never seen conditions like this! There were fog banks that would freeze to your car if you drove through it.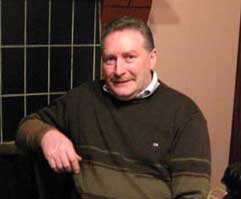 Don Flynn
Weather hadn't been this severe in decades and, because Ireland does not have this weather problem on a permanent basis, they don't have the equipment to handle it. Mohill had one truck to plow and sand. The main roads were slippery, with black ice; but the secondary roads, which are very narrow, with just about enough room for two small cars to pass each other, were a very, hairy, scary ride. Yikes!! There was no controlling the car. It just went wherever it wanted to go, and I didn't like it one bit. Once we got home, we didn't go out again for days.
It wasn't bad enough that the weather conditions had put a damper on all of our well laid plans, but Terry woke up sick with the flu. We braved the weather and drove into Mohill to get some cold and flu medicine, and to stock up on some food and peat for the fire. We huddled around the fireplace with blankets and watched TV.
The next morning, I woke up with the flu. We stayed in for days until we had to go to town to get more supplies. In the meantime, it continued to snow and sleet and it got so much colder that the pipes froze. Mr. Flynn was very accommodating and brought us pails of water for the plumbing and some drinking water for tea. The next day, the water was back on, but only for a day or so when the pipes froze again. It was because the reservoir for the whole area had frozen. Mr. Flynn was trying to make us as comfortable as he could but he had an awful time competing with the weather.
So, there we were, housebound, huddled around the fire, draped in blankets, sniffling and sneezing and coughing, and watching three channels repeat the same programs over and over during the Christmas break. What else could possibly happen? Well ... then the electricity went out. By this time, it was obvious that our long-awaited vacation was ruined, and we could only laugh about it. Mr. Flynn came knocking at the door, and he stood there in the dark holding candles. I just burst out laughing and we all talked about how there was nothing anybody could do. It was just a chain of freaky circumstances that were nobody's fault. The day before we left, the water came back on, so we had one good day left at Pine Lodge.
On New Year's Day we said our goodbyes to Mohill and headed out for Kiltale, Co. Meath and to see Mary and Michael Lydon. Again, the driving was treacherous and there was black ice even on the major motor ways. It was another one of those scary drives. When we arrived, I phoned Mary and she told me where we would be staying. She was going to put us into Buttercup Chalet, but instead we stayed at The Stables. Michael greeted us and opened the apartment. Mary had left out some mince tarts and an apple pie to have with our tea, which was, as always, a nice treat. The next day she stopped over with some eggs and we had a nice visit to catch up on any news. The weather was the main topic.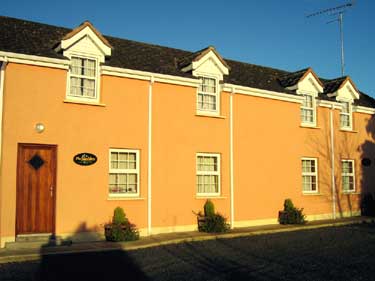 The Stables, Kiltale, Co. Meath
We really wanted to meet up with my cousin, Ania, who lived in Dublin, but decided we just couldn't do it. With the weather, the roads, and neither of us feeling very well, it was just too much.Of course, we were very disappointed in the way our trip turned out, but there was nothing we could do about it. If ever there was a more appropriate place for Murphy's Law to happen, it was in Ireland during the holiday season of 2009.

Disclaimer: LittleShamrocks.com is an affiliate website that receives commissions from sales of the products listed. We have purchased and sampled many, but not all, of the products on these pages.

© Copyright LittleShamrocks.com. All Rights Reserved.