Tyna's Two Christmas Cakes in One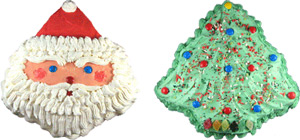 Jolly Santa Cake and Festive Christmas Tree Cake
These two cakes are a big hit with children and are fun to make and give as gifts. They are also a very popular and festive item to bring to a Christmas party.
2 Christmas Tree Cake Pans
1 Two-Layer Prepared Cake Recipe or Cake Mix, any flavor
1 Recipe Prepared Best Butter Cream Frosting
Green Gel Food Coloring
Red Gel Food Coloring
1 Drop Each of red & Yellow Liquid Food Coloring
Assorted Christmas Sprinkles
Assorted plain M & M Candies
Using the Christmas tree cake pans, divide batter evenly between the two pans. Bake according to directions on box. Cool completely on a wire rack. Divide the frosting evenly into two bowls, setting one bowl aside. Use enough green gel food coloring to make a rich green color for the Festive Christmas Tree Cake. Frost the cake and spread frosting to look like tree boughs. Decorate with M & M candies and sprinkles; place in the refrigerator to set the frosting.
For the Jolly Santa Cake, using a sharp knife, trim off the tips of the side 'branches' and round off the tree trunk edges; then brush away any crumbs. Using the other bowl of frosting, frost the bottom 2/3 of the cake in white. Put about 1/4 cup of frosting into a small dish with the liquid food coloring for Santa's face.
Thinly spread face frosting into an elongated rectangle, using the photo as a guide. Again, using the photo as a guide, place 2 blue M & M's for his eyes, 1 red for his nose and 1 red for his mouth. Place about 3/4 cup of the frosting into a small bowl and dye it a bright red with the red gel food coloring.
Frost the top 1/3 of the cake with the red for Santa's hat. Place the remaining white frosting into a decorating bag with a star tip and pipe out his hair, eyebrows, mustache and beard. Pipe out a white border and a pompom for the top of his hat. Voila ... Two cakes in one! Enjoy!

Disclaimer: LittleShamrocks.com is an affiliate website that receives commissions from sales of the products listed. We have purchased and sampled many, but not all, of the products on these pages.

© Copyright LittleShamrocks.com. All Rights Reserved.