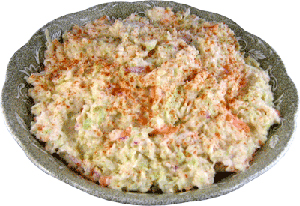 1/4 Large Cabbage
1 Large Carrot
2 Tablespoons Sweet Onion
2/3 Cup Mayonnaise
1/2 Teaspoon Yellow Mustard
1/2 Teaspoon Black Pepper
1/2 Teaspoon Salt
1/4 Teaspoon Paprika
1/4 Teaspoon Garlic Powder
1 Teaspoon Sugar
Grate or thinly shred the cabbage. Grate the carrot on a large grater. Grate the onion on a small grater.
Combine mayonnaise, mustard, pepper, salt, paprika, garlic powder and sugar until smooth. Mix with grated vegetables until completely coated.
Transfer to a bowl and dust with paprika. Chill in refrigerator until ready to serve.

Disclaimer: LittleShamrocks.com is an affiliate website that receives commissions from sales of the products listed. We have purchased and sampled many, but not all, of the products on these pages.

© Copyright LittleShamrocks.com. All Rights Reserved.