Clarkes Rynn Valley Lodge

When we finished our meal at Clarke's, Sean called over his manager. We were very surprised to see that it was Samantha Long, whom we had met at Lough Rynn. We were very happy that she remembered us and the name of our web site. She proceeded to take us on a tour and explained everything.
Samantha gave us some historical information and told us that this building was one of the first accommodations in Mohill. It was first opened in 1896 and had changed ownership several times before Sean Clarke purchased it in 1999. When we were there in 1998, it was known as Kelly's Hotel. Sean purchased the vacant pub next door, formerly Grady's Pub including living quarters upstairs.
As the hotel stands now, there is one front door, which leads to the bar/restaurant and the hotel rooms. There is another door to the rear section where the disco is located. There will now be three separate doors, one for the bar, one for the restaurant and one in the middle for the hotel. Where the present bar/restaurant is now, will be updated to a more contemporary restaurant with choices from a menu, instead of the buffet style carvery service they offer now. The restaurant will also be serving evening dinners until 8:30 or 9:30 PM. There is only one other restaurant in Mohill serving evening meals, which is Chinese food, that not everyone likes. We were very happy to hear that, as we didn't always want fast food or Chinese food for dinner. The restaurant will be open Tuesday through Saturday.
The new bar, The Spirit Bar & Venue, is going into the old Grady's Pub area. There will be two floors, with the second story having a rail-bar balcony. Toward the rear of the bar will be what they call a 'snug', which is a more cozy and private area with a fireplace. As we were moving through the back area, we noticed some names carved into the stones. One was W. Higgins and the other was E. Craddock 1889, who was a member of the first Irish football team from Mohill. Further back, there will be a partially covered beer garden, with outdoor seating for rain or shine. And, even further back, there will be a lush lawn and garden for weddings. Bar food will be served from 3:00 PM seven days a week. Live music will be playing on Saturday nights in the bar.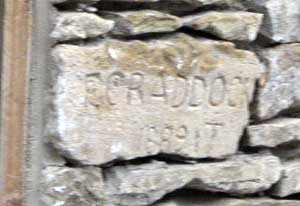 Back to the front of the building and the hotel lobby. The reception area will now be completely separated from the bar and restaurant. The rooms will be B & B style ensuite. By the end of July the new bar will be the first big change and will suffice as the temporary restaurant/bar until the old one is refurbished for the new restaurant. The hotel rooms will be updated as well.
Now, last but not least, is the Disco/Night Club, NiteLinks. This area of the building is already in operation but will also be updated. This is a dance club/night club/bar combo which offers either live music or a DJ on Saturday nights. Samantha told us that they wanted to have a new contemporary facility but wanted to keep the old pub charm. We think that it will be a great improvement to Mohill,and we wish them all the best with their forthcoming renovation!
Click here for the next story
Sad Endings.

Disclaimer: LittleShamrocks.com is an affiliate website that receives commissions from sales of the products listed. We have purchased and sampled many, but not all, of the products on these pages.

© Copyright LittleShamrocks.com. All Rights Reserved.