8 Cups Sweet Potatoes, peeled and sliced very thin
6 Tablespoons Butter
1/2 Cup Flour
2 Cups Heavy Cream
1 Cup Milk
1/2 Cup Brown Sugar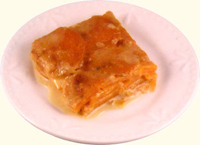 Preheat oven to 350F.
Place potatoes in 3-4 quart casserole. In saucepan, melt butter, stir in brown sugar until dissolved. Stir in flour, then gradually add cream and milk. Bring to a boil over medium heat until thickened. Pour sauce over potatoes. Place casserole on a cookie sheet and cook covered at 350F for 1 hour. Remove cover and cook for another 30 minutes. Remove from oven. Yield: 12 servings

Disclaimer: LittleShamrocks.com is an affiliate website that receives commissions from sales of the products listed. We have purchased and sampled many, but not all, of the products on these pages.

© Copyright LittleShamrocks.com. All Rights Reserved.