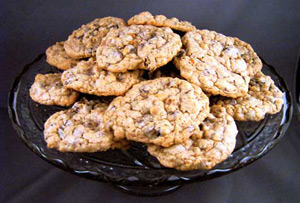 I made up these cookies by combining recipes for oatmeal raisin and chocolate chip cookies. They have been my sons' favorite since he was a little boy.
1 Cup Margarine (2 Sticks), softened
1 1/4 Cups Firmly Packed Brown Sugar
1/2 Cup Granulated Sugar
2 Eggs
2 Tablespoons Milk
2 Teaspoons Vanilla
1 3/4 Cups All-Purpose Flour
1 Teaspoon Baking Soda
1 Teaspoon Salt
1 Teaspoon Cinnamon
1/4 Teaspoon Nutmeg
2 1/2 Cups Uncooked Oatmeal
1 Cup Semi-Sweet Chocolate Chips
1 Cup Raisins
1 Cup Chopped Walnuts
Preheat oven to 375F.
Beat together margarine and sugars until creamy. Add eggs, milk and vanilla; beat well. Add combined flour, baking soda and spices; mix well. Stir in oats, chocolate chips, nuts and raisins; mix well.
Drop by rounded tablespoonfuls onto ungreased cookie sheet. Bake 9 to 10 minutes. Cool 1 minute on cookie sheet; remove to wire rack. Yield: 5 dozen

Disclaimer: LittleShamrocks.com is an affiliate website that receives commissions from sales of the products listed. We have purchased and sampled many, but not all, of the products on these pages.

© Copyright LittleShamrocks.com. All Rights Reserved.