Wild Rice & Barley Stuffed Mushrooms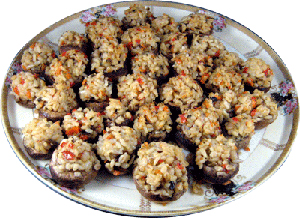 1/4 Cup Uncooked Wild Rice
2 Tablespoons Olive Oil
1/2 Medium Onion, finely chopped
1/2 Cup Uncooked Pearl Barley
2 Cloves Garlic, minced
2 Cups Chicken Broth
1 Small Red Bell Pepper, finely chopped
8 oz Fresh White Mushrooms
1/4 Cup Shredded Carrots
1/2 Teaspoon Dried Oregano
Rinse rice in fine strainer under cold running water; drain and set aside. Heat 1 tablespoon oil in 3 quart saucepan over medium heat. Add onion to oil; cook and stir about 10 minutes. Add barley, rice and garlic; cook and stir over medium heat 1 minute. Stir in chicken broth. Bring to a boil over medium-high heat. Reduce heat to low; simmer, covered, about 1 hour.
Clean mushrooms with a soft cloth and remove stems. Set caps aside; finely chop stems. Heat remaining 1 tablespoon oil in a large skillet over medium-high heat. Add bell pepper; chopped mushrooms, carrot and oregano; cook and stir 5 to 6 minutes. Stir the bell pepper mixture into saucepan of rice mixture. Remove from heat.
Preheat oven to 350F.
Slightly over stuff mushroom caps with rice mixture. Spray baking dish with cooking spray. Place the stuffed mushrooms in a single layer and bake, uncovered, 15 minutes at 350F. Serve hot from the oven.

Disclaimer: LittleShamrocks.com is an affiliate website that receives commissions from sales of the products listed. We have purchased and sampled many, but not all, of the products on these pages.

© Copyright LittleShamrocks.com. All Rights Reserved.