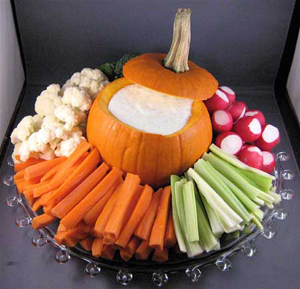 1 Small (6 inch) pumpkin or red cabbage
1 Bunch broccoli
1 Bunch celery
1 Bunch radishes
1 Bag of carrots
1 Head of cauliflower
2 Packages prepared ranch dip
Wash the pumpkin and scoop out all seeds, or wash and scoop out the center of the cabbage. Wash, and cut the remaining vegetables into about 3 inch lengths, leaving the radishes whole.
Place your chosen centerpiece in the middle of a large round platter and fill with ranch dip. Position the vegetables neatly in a circle around the center. Cover with plastic wrap and chill until served.

Disclaimer: LittleShamrocks.com is an affiliate website that receives commissions from sales of the products listed. We have purchased and sampled many, but not all, of the products on these pages.

© Copyright LittleShamrocks.com. All Rights Reserved.