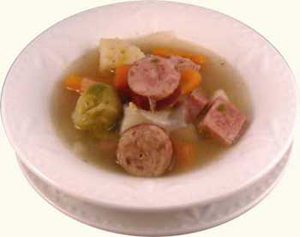 1/2 lb. fresh Brussels sprouts
2 lb Potatoes, peeled and diced 1/2-inch thick
1 lb Cooked
Irish Pork Sausage
, sliced into 1/2-inch pieces
1 lb Cooked Smoked Ham, cut into 1-inch cubes
1/2 lb Carrots, peeled and diced 1/2-inch thick
3 Medium Onions, cut into 1-inch pieces
1 Teaspoon Dried Thyme Leaves
1/2 Teaspoon Black Pepper
Cut stem from each Brussels sprout and pull off outer bruised leaves. Cut an X deep into the stem end of each sprout with a paring knife.
Place potatoes, sausage, ham, sprouts, carrots, onions, thyme and pepper in Dutch oven. Add enough water to just barely cover ingredients. Bring to a boil over high heat. Reduce heat to medium; cover and simmer 20 minutes. Uncover; continue cooking 15 minutes or until vegetables are tender. Remove from heat.
Cool slightly. Skim any fat from surface of liquid. To serve, spoon meat and vegetables into individual bowls along with some broth. Serve with buttered soda bread on the side. Yield: 8 to 10 servings

Disclaimer: LittleShamrocks.com is an affiliate website that receives commissions from sales of the products listed. We have purchased and sampled many, but not all, of the products on these pages.

© Copyright LittleShamrocks.com. All Rights Reserved.