Deluxe Holiday Cheesecake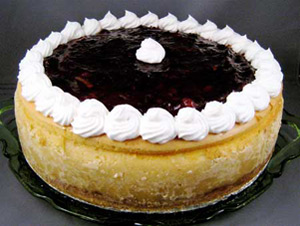 (Begin early in the day or a day ahead)
Pastry:
1 1/4 Cups All-Purpose Flour
3/4 Cup Butter (1 1/2 Sticks), softened
1/4 Cup Sugar
1 Large Egg Yolk
Grated Peel of 1 Small Lemon
Filling:
5 8 oz Packages Cream Cheese, softened
1 3/4 Cups Sugar
5 Large Eggs
1/4 Cup Milk
3 Tablespoons All-Purpose Flour
2 Large Egg Yolks
Grated Peel of 1 Small Lemon
Topping:
1 Can Whole Berry Cranberry Sauce
1/3 Cup Orange Marmalade
1/4 Cup Sugar
Dash Nutmeg
First prepare pastry dough: In a small bowl, with mixer at low speed, beat flour, butter, sugar, egg yolk and grated lemon peel until well mixed. Shape dough into ball; wrap with plastic wrap and refrigerate 1 hour.
Preheat oven to 400 F.
Press 1/3 of dough onto bottom of 10 x 2-1/2 inch springform pan; keep remaining dough refrigerated. Bake crust 8 minutes or until golden; cool in pan on wire rack. Turn oven control to 475F.
While crust is cooling, prepare filling: In large bowl, with mixer at medium speed, beat cream cheese just until smooth; slowly beat in sugar, scraping bowl often with rubber spatula. Add eggs, milk, flour, egg yolks and lemon peel; beat 5 minutes, occasionally scraping bowl.
Press remaining dough around side of pan to within 1 inch of top. Pour creamed mixture into crust. Bake cheesecake 12 minutes. Turn oven control to 300 F.; bake 35 minutes longer. Turn oven off; let cheesecake remain in oven 30 minutes.
Remove cheesecake from oven; cool completely in pan on wire rack. Cover and refrigerate at least 4 hours or until well chilled.
When cheesecake is firm, with spatula, loosen pan side from cheesecake and remove; loosen cake from pan bottom; slide onto serving plate.
Whole berry cranberry sauce topping: In a small pan, on low heat, mix together cranberry sauce, marmalade, sugar, nutmeg until it just comes to a boil. Remove from heat and let cool completely. Top cheesecake with sauce and chill for at least 2 hours. Decorate with whipped cream before serving.

Disclaimer: LittleShamrocks.com is an affiliate website that receives commissions from sales of the products listed. We have purchased and sampled many, but not all, of the products on these pages.

© Copyright LittleShamrocks.com. All Rights Reserved.