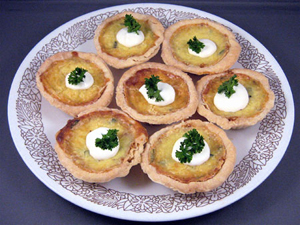 2 Uncooked Pie Crusts, cut into 4 inch circles
12 4-Inch Heavy Duty Tin Foil Circles
1 Envelope Leek Soup Mix
1 1/2 Cups Milk
1/2 Cup Light Cream
3 Lightly Beaten Eggs
6 oz Swiss Cheese, shredded
1 Teaspoon Dry Mustard
Dash Pepper
1 4.5 oz Can Deviled Ham
2 Tablespoons Fine Dry Bread Crumbs
Preheat oven to 450F.
Place pie crusts into small 12 count tart pan (or a muffin pan will do). Line the pastry with the foil circles. Bake for 5 minutes, remove from oven and discard foil. Reduce oven to 325F.
In a saucepan, combine soup mix and milk; cook and stir until mixture boils. Remove from heat; cool slightly. Stir in cream. Combine eggs, cheese, mustard and pepper. Gradually add to the soup mixture, stirring until well blended.
Mix deviled ham and bread crumbs and spread on the sides of each tart shell. Carefully pour soup mixture into each shell. Bake at 325F for 30 to 35 minutes, until center is firm.
Let stand about 10 minutes. Top with a dab of sour cream and parsley, then serve. Yield: 12 tarts

Disclaimer: LittleShamrocks.com is an affiliate website that receives commissions from sales of the products listed. We have purchased and sampled many, but not all, of the products on these pages.

© Copyright LittleShamrocks.com. All Rights Reserved.