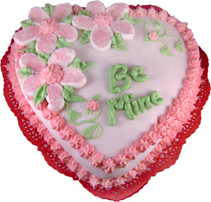 3 Egg Whites
1 1/2 Cups Sugar
1 Cup Unsweetened Applesauce
1 Teaspoon Vanilla
2 Cups All-Purpose Flour
2 Teaspoon Ground Cinnamon
1 Teaspoon Baking Soda
1/2 Teaspoon Salt
4 Cups Tart Apples, sliced, cored and peeled
Preheat oven to 350F.
Beat egg whites until slightly foamy; add sugar,

applesauce and vanilla. Combine flour, cinnamon, baking soda and salt in separate bowl; add to applesauce mixture. Spread apples in 13 x 9 inch pan or another large round or shaped cake pan sprayed with nonstick cooking spray. I have used a
Heart-Shaped Cake Pan
.
Spread batter over apples. Bake 30 to 35 minutes or until a toothpick inserted into center comes out clean; cool on wire rack. Cut and serve with ice cream or whipped cream; I have decorated it for Valentine's Day.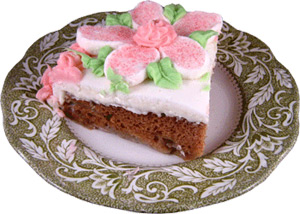 Disclaimer: LittleShamrocks.com is an affiliate website that receives commissions from sales of the products listed. We have purchased and sampled many, but not all, of the products on these pages.

© Copyright LittleShamrocks.com. All Rights Reserved.